Funtastic Play Time
Where Fun Never Ends For Kids!
Debating Outdoor Vs. Indoor Playgrounds For Your Child's Play Part 1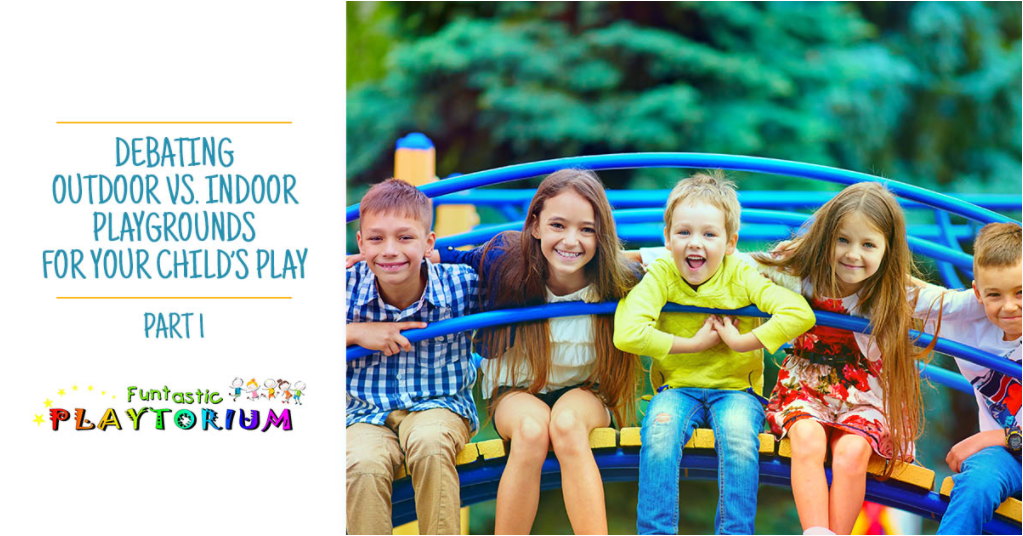 It is widely known that kids have a lot of energy and love to play. As a parent, you want to find a children's playground to let your little one frolic and explore. Where you take your kid can play a major role in how beneficial the experience is, so it pays to do a little research before loading up the car. As your Top Rated Local® indoor playground in Alderwood and Factoria, Funtastic Playtorium is proud to provide the best space for kids aged 10 and under to let little ones roam and play as they please. Our playground for kids is as safe as it is engrossing, featuring a secured facility that allows parents to keep an eye on their adventurers from afar. We're passionate about providing the best space for kids to develop and grow while they have a blast.
One area that we have received questions on is the benefits of indoor play versus outdoor play. Today, we'll highlight a few features of each version of play and discuss which one is the best for children. When done, be sure to check out the best kids' indoor playgrounds in Washington to give your little one a memorable adventure!
Outdoor Playgrounds
The classic scene for many of our young lives, the great outdoors offers sunshine and fresh air. This setting provides ample room for little ones to run free, often relying on classic swing sets, slides, and jungle gyms to keep children engaged and entertained. When you break it down, playing outdoors can be beneficial due to multiple reasons, including:
Vitamin D absorption. These days, children are not spending enough time outside. This means that they are not receiving enough Vitamin D from the sun. Playing in the sunshine provides a boost to your immune system, heart health, and bone density. The addition of fresh air is always a plus!
Better vision. While spending time indoors staring at screens can place a lot of fatigue on your little one's eyes, playing outdoors can actually improve your kid's vision. Studies have shown that spending time outdoors can provide a boost to farsightedness, as your pupil faces brighter lights and must restrict further.
Better attention spans. One major benefit of taking your child to an outdoor or indoor playground is that he or she will have a place to burn energy. Children who receive enough playtime tend to focus better, and according to a study from the American Journal of Public Health, outdoor settings seem to produce a positive effect for kids with ADHD symptoms. Additionally, children who spent more time outside tended to produce more independent thinking.
Indoor Playgrounds
While hanging out with Mother Nature is a smart move that we frequently endorse, it's important to remember that limitations can put a damper on your little one's day. Indoor play areas began gaining momentum in the 1990s as happening spots for kids to run around and play. Today, our complexes have evolved into interactive landscapes that provide mental stimulation for children of all ages. When you decide to let your child play indoors at a place, such as Funtastic Playtorium in Alderwood and Factoria, you can benefit from:
Consistent weather. Washington is known to host a wide range of weather patterns, and if inclement weather shows up at your doorstep, your kids may be stuck inside with few outlets for their stored energy. You can plan an exciting adventure at one of our indoor playgrounds and rest easy knowing that the conditions will be the same no matter the outside temperatures.
Safer equipment. We all love the swingset and the balance beam, yet these metal designs can create a host of dangers for your child. Sharp edges and rusty corners, in particular, are major concerns for most parents. Our playground for kids is soft and safe, providing colorful features that keep your little one safe and sound.
Secured areas. One of the biggest priorities for every parent is safety. Our playground is secured 24/7 to ensure that your little ones can roam safely.
Deciding on the best way to let your little play can be a challenge, which is why Funtastic Playtorium is here to help! Next time, we'll conclude this series by looking at a few more benefits of indoor play areas, as well as the best choice you can make. If you are currently seeking a place for your child to explore and run around in, our indoor playgrounds in Alderwood and Factoria are the perfect answer! We're located in the Alderwood Mall next to JCPenneys, so be sure to stop in today or contact us to reserve your private event!
Indoor playground for kids (ages 1 to 10 years)